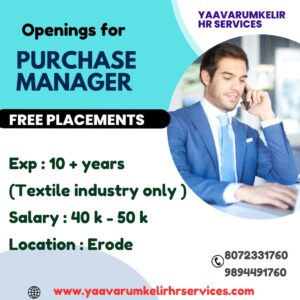 job summary:
Expected Experience in Textile Industry of 10+ Years.
The sourcing of supplies, products, and services, as well as vendor management, are under the purview of the purchasing manager. The chosen applicant must be able to carry out strategic procurement tasks across a range of spending categories, look for better offers, and identify suppliers who will yield higher returns.
Responsibilities:
Create, direct, and carry out purchasing strategies
To cut costs and increase effectiveness, monitor and report the most important operational KPIs.
Develop negotiation tactics, and close deals with the best possible conditions.
Ensure clear requirements documentation by working with stakeholders.
Do cost and scenario analysis, and benchmarking to discover changes in the balance of buyer and supplier power.
Identify, manage, and reduce risks
Find trustworthy suppliers and businesses to work with.
Establish the number and timing of deliveries.
track and project future demand levels.
Qualifications and abilities:
A history of accomplishment as a purchasing manager, agent, or officer
knowledge of sourcing and vendor management, as well as an interest in market dynamics and business sense
Networking and negotiating skills Working knowledge of vendor management software
a capacity for data collection, analysis, and working with numbers
sound judgement and decision-making abilities
powerful leadership skills.
This job is Expired