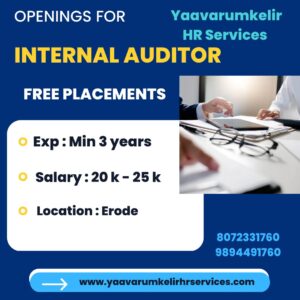 We are searching for an unbiased internal auditor who can offer value and enhance our business processes by applying a methodical and disciplined approach to the efficiency of risk management, control, and governance systems. The ideal applicant will have solid judgment and in-depth knowledge of accounting practices.
completing the entire audit cycle, which includes risk management and control management for the effectiveness of operations, financial stability, and compliance with all relevant directives and requirements
defining the scope of internal audits and creating annual plans
acquiring, studying, and assessing accounting reports, data, flowcharts, etc.
Responsibilities : 
Perform and manage the entire audit cycle, including risk management and control management over the efficiency and dependability of operations, as well as compliance with all relevant guidelines and legislation.
Establish the scope of internal audits and create annual plans.
Obtain, examine, and assess accounting records, data, flowcharts, and previous reports.
Create and provide reports that detail the findings of the audit and the reporting procedure.
Serve as a neutral source of unbiased, impartial counsel to guarantee accuracy, legality, and goal accomplishment.
Identify weak points and suggest cost-saving and risk-aversion strategies.
Keep lines of communication open with the audit committee and management.
Make a memo outlining the audit results and process documentation.
To keep an eye on management's interventions, conduct follow-up audits.
Engage in ongoing knowledge development regarding the performance standards, best practices, tools, and laws applicable to the sector.
Requirements and Skills : 
Proven background as an internal auditor.
knowledge of databases, MS Office, and accounting software
the capacity to work with massive amounts of data and provide in-depth reports.
knowledge of laws, rules, and regulations, as well as auditing standards and procedures.
High level of detail- oriented ness and superior analytical abilities.
autonomous judgment that is sound.
Bachelor's degree in finance, accounting, or a related field.
This job is Expired