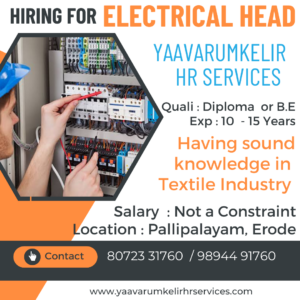 Job Summary for Electrical Engineers:
An attention-grabbing explanation of the position and its function inside your firm should be the first section of an excellent job description. Your summary should include a general description of your business and the job's requirements. Describe the kinds of tasks and responsibilities needed for the position so that applicants may decide if they are qualified or if the position is right for them.
Our company is now looking for an accomplished, experienced, and self-driven Electrical Engineer to maintain and support our systems and products, which are at the top of their respective industries. The Electrical Engineer will collaborate with numerous functional groups that are involved in engineering, product development, implementation, and global contract manufacturing partners. The ideal applicant is a creative problem-solver who can navigate complex technological issues and apply workable solutions. This is a great chance to join a team that offers integrated services to satisfy the demands of our clients locally and globally.
Tasks and obligations of an electrical engineer:
The most significant portion of the job description is the section on responsibilities and obligations. Here, you should describe the regular responsibilities of the position, its role within the company, and the name of the manager to whom the employee will be reporting.
For the purpose of creating standards and specifications, perform precise computations.
Check installations and operations for adherence to design specifications, equipment requirements, and safety regulations.
Use AutoCAD or other computer-assisted engineering software to do engineering jobs.
Aid in the testing and development of products for the production department.
Assure the quality of current initiatives
Keep up with the most recent advancements in electrical engineering technology.
Qualifications and expertise for electrical engineers:
Outline the essential and desirable talents for your role next. Education, prior work experience, certificates, and technical abilities may be included. You can also mention the soft talents and character qualities you look for in a candidate. Although it would be tempting to highlight several qualifications and talents, doing so might discourage competent applicants from applying. Keep your list of credentials brief, but include enough information and pertinent keywords and concepts.
A diploma in electrical engineering or equivalent experience and thorough knowledge of the textile sector are necessary.
capable of using software for electrical engineering
strong familiarity with the procedures used in electrical production
able to troubleshoot and address problems as they arise
Excellent communication skills both in writing and speaking
This job is Expired