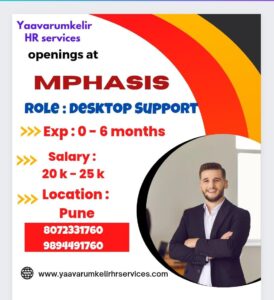 Brief description of the position: 
We are searching for a Desktop Support to help our clients with technical issues. You will assist with hardware and software system installation, upgrades, and troubleshooting.
We'd like to meet you if you have computer expertise and like helping end consumers. You should be able to deliver precise technical instructions and possess a problem-solving mindset in order to be successful in this position. Additionally, you ought to be knowledgeable about remote troubleshooting methods.
In the end, you'll make sure that customer assistance is rapid and correct and raise client happiness.
Responsibilities:
Respond to user complaints about hardware, software, and networking
Demonstrate to consumers how to install software and computer accessories.
Ask specific inquiries to identify issues
Provide users with clear, detailed instructions
Carry out online troubleshooting
Alternate approaches can be tried until a problem is fixed.
Desktop software should be customized to suit user demands.
Log technical problems and their fixes.
Send unsolved problems to the next tier of support staff
ensuring that clients' systems are operational by following up with them.
Report client opinions and possible product demands.
help with manuals and technical documentation.
Qualifications and abilities:
Experience working as a Desktop Support Engineer, Technical Support Engineer, or in a position that is comparable
practical knowledge of Windows, Linux, and Mac OS environments
working familiarity with computer hardware such as printers and scanners and office automation devices
understanding of network security procedures and antivirus software
the capacity to troubleshoot remotely and give precise instructions
Excellent ability to multitask and solve problems
customer-focused mindset
Computer science or a related field as a BSc.
This job is Expired